So here was the sad dresser that was brought to me a week ago by a new client. She needed a lot of help... so I loved on her a little bit...and here are the pics to prove it!
So i sanded her down, filled in the handle holes with wood glue, sanded a bit more, painted her a pretty pear green, applied some aged glaze, and bought super cute glass knobs at Hobby Lobby for the drawers. Since HL was having a sale, I was able to get these knobs for $2 a piece, rather than $4. So here is the end result and some close ups.
She has ADORABLE written all over her, doesn't she?
You can see more great projects @ one of my favorite blogs- just click the button below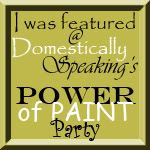 So this transofrmation made me think back to a few of my favorite other transformations. Here are my top favorites...
This ugly green dresser you saw a while back...
Then here was a simple chair i found a couple years ago on the side of the road... actually there were four of these... how lucky am I?
Another chair... found this at a flea market...I think I paid $25- kind of expensive for me but she turned out worth it.
So I put a little time and $3 worth of materials into her and here's what I got...
The little pillow is actually made out of fabric placemats I found at goodwill (4 for 99 cents!). And I think the fabric was $1.50 a yard at wal-mart.
Here is my very first furniture product... so the pics aren't great... this is an antique linen cabinet (I think) that I picked up from a flea market sale for only $20!!! How I would pay that price again for 3 more!
<


It doesn't look like this anymore - because i needed it to match my living room so now it is painted white with some age glaze. It holds our TV inside!
Now for the item I think used to be a feed bin... that I turned into a buffet...
So a little leftover paint, and glaze...
A couple more projects...
And last and definately my favorite of all time- my $200 laundry room makeover...
I'll do a post in the next couple weeks on how i accomplished this makeover for only $200.